Details
Onda V812 Quad Core is the first Onda 8 Inch Quad Core Android Tablet PC.Onda V812 Quad Core use Allwinner A31 CPU and 8 Core Power VR SGX544MP2 GPU.Onda V812 configured a 8 inch IPS screen with 1024*768 High-resolution.
Onda V812 Quad Core Features:
OS:  Android 4.1.1
CPU: AllWinner A31 Quad Core
GPU: Power VR SGX544MP2 8 Core
RAM     2GB,DDR3 1MB L2 Cache
Storage 16GB
Screen: Capacitive Touchscreen, 1024*768 resolution
Size:   8 inch
Resolution: 1024*768 IPS
Gravity Sensor:   Yes
Camera     Daul Camera,Back 5.0M Camera with Autofos,Front 0.3M

Onda V812 Quad Core Tablet PC Details:
Brand    Onda
MPN    Onda V812
Extend Card     Support TF card up to 32GB extended
Gravity Sensor     Yes
Google Play: Pre-installed
Multi-Touch     Yes, 5 points touch
Android Market     Yes
Skype     Yes
Email and Browser: Yes, built in
WIFI:    802.11b/802.11g / 802.11n
Earphone Interface     3.5mm
Video:4K HD Videp Play with formats of MP4/3GP/3G2/RM/RMVB/ASF/FLAC/APE/MOV etc.
Music     MP3/WMA/FLAC/APE/WAV/RA/Ogg/MIDI/3GP etc.
Ebook     UMD, TXT, PDF, HTML, RTF, FB2…
Battery : Li-Poly 6000mAh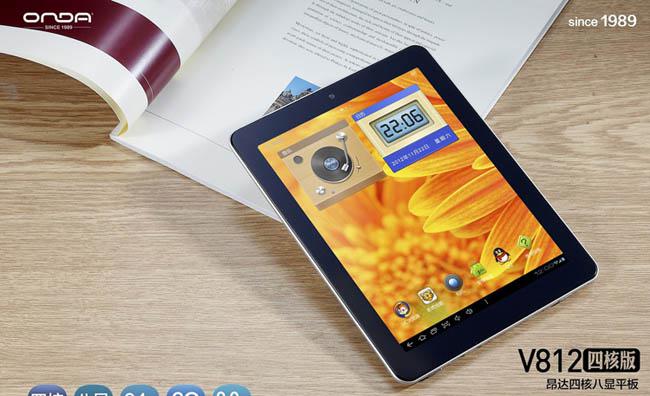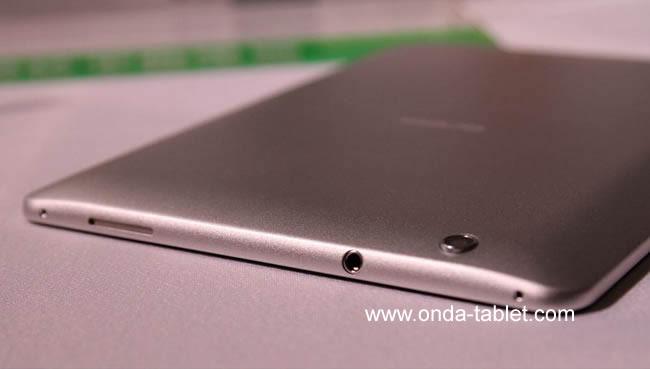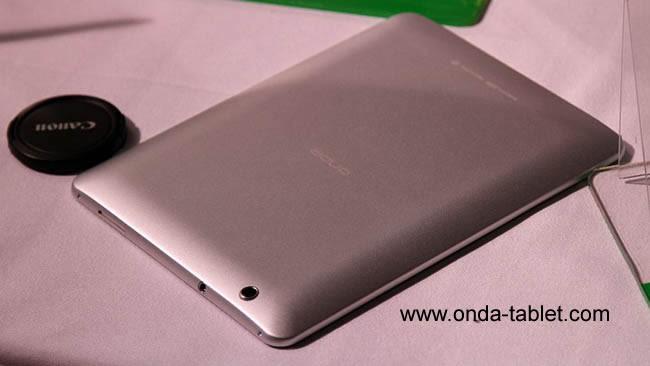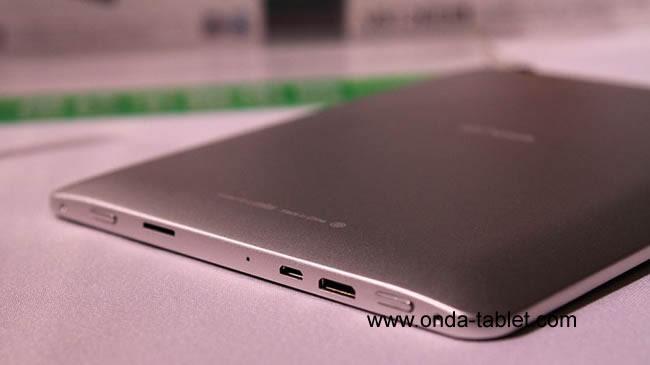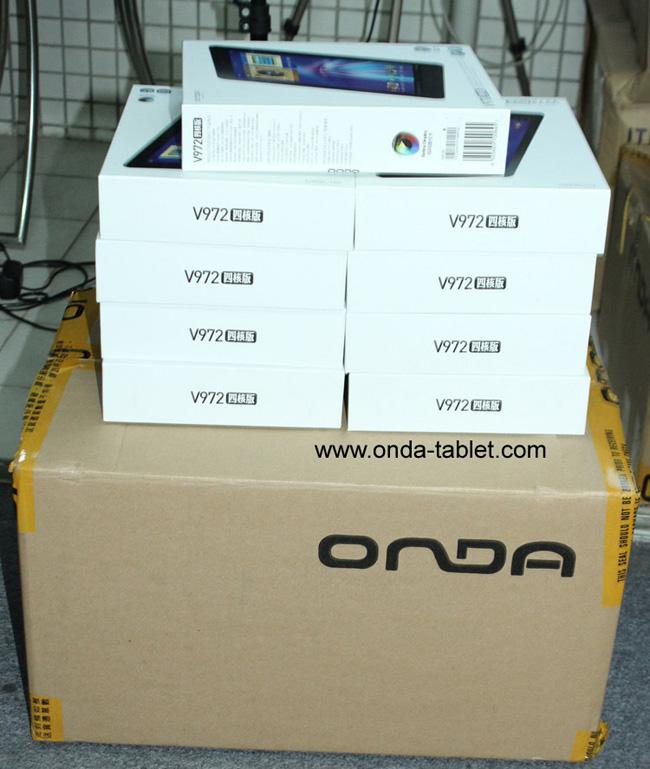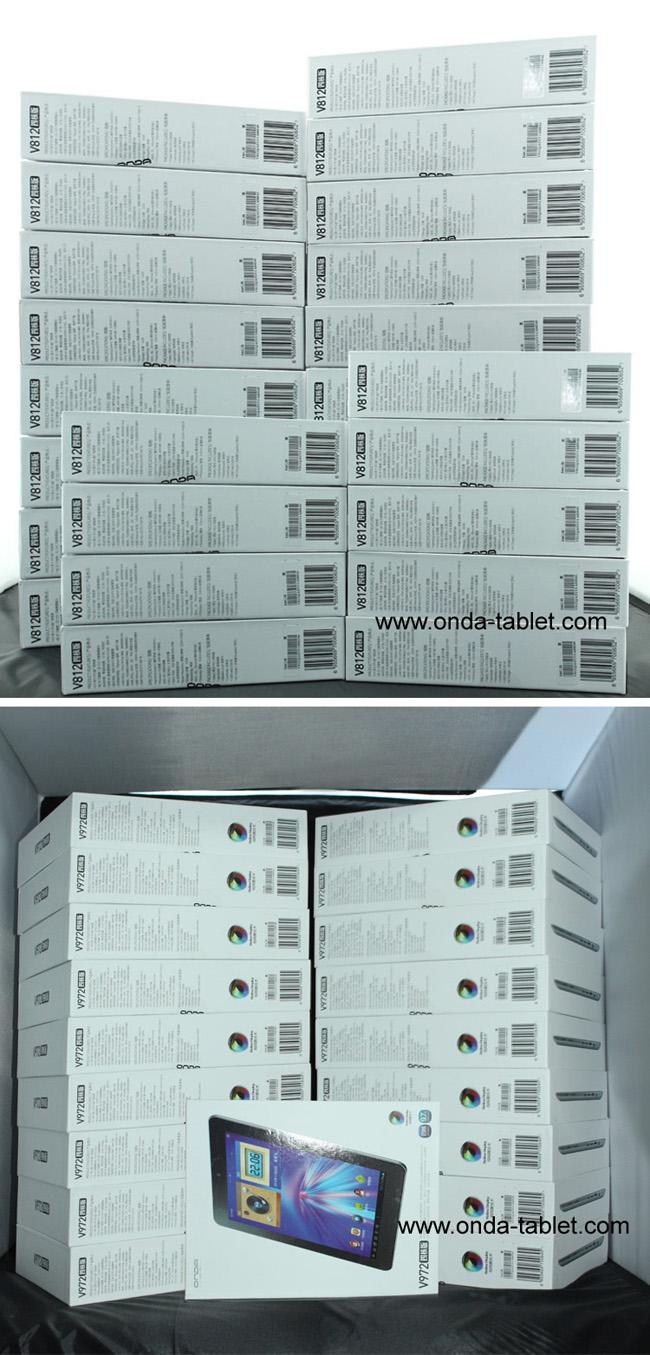 Onda V812 Quad Core contain:
1 x Onda V812 Quad Core
1 x USB cable
1 x Charger
Onda V812 Quad Core Weight: 478g

Onda V812 Quad Core Size: 199.8*152.5*9.8mm
Payment:
* We accept PayPal,Western Union,Wired Transfer.
You may also be interested in the following product(s)
Regular Price: $149.90

Special Price: $129.90
Questions on Onda V812 Quad Core Tablet PC Android Allwinner A31 WIFI HD 2160P Dual Camera 16GB
Sort by

From usama at

1/13/13 12:02 PM

From zai at

1/12/13 7:19 PM

From Deefer at

1/9/13 3:46 PM

From Fran at

1/9/13 2:37 PM

From Fran at

1/9/13 2:35 PM

From Doncho at

1/7/13 7:16 AM

From Ben at

1/7/13 6:16 AM

Will this tablet support a PS3 pad using an OTG cable? If not will it support a bluetooth adaptor using oon the go
Onda Tablet:
Thank you for your mail.
We are not sure Onda V812 support PS3,but we will check it for you.
Onda V812 support WIFI Direct and WIFI Display.

From carl at

1/7/13 2:07 AM

From ram at

1/7/13 8:17 PM

From Eric at

1/6/13 12:50 PM

From sgaby at

1/6/13 11:39 AM

From Bigmassa at

1/4/13 4:25 AM

Hi,
Looks like a great tablet!
I still have a few questions about it:
- What are the shipping costs for Switzerland?
- Can the device be powered by a 12v car (USB?) adaptor?

Thanks.
Onda Tablet:
Thank you for your mail.
The shipping cost to Switzerland is 26.0USD,now we do not have 12V car adaptor,when we got it we will submit on our website.

From Hirudo at

1/4/13 6:19 PM

From shmuel at

1/3/13 4:45 AM

From redoneil reyes at

1/3/13 1:46 AM

From denis at

1/2/13 3:17 AM

Which post service do you use for shipment to Greece? I don't want to pay any tax and for example with China or singapore or EMS post is more likely to avoid taxes. How can I connect an external GPS dongle to this machine? Thanks in advance.
Onda Tablet:
Thank you for your mail.
We support EMS and SWISSPOST shipping to Greece,we will print your package value under 50USD.
Onda V812 Quad Core do not build in GPS.

From ces at

12/31/12 11:19 AM

From Tweek at

12/31/12 11:17 AM

From kory at

12/30/12 7:14 AM

From ces at

12/30/12 8:55 PM

From ces at

12/30/12 8:53 PM

se le puede adicionar los modulos que le faltan como 3g con funcion llamada ,bluetooth y gps
muy buenas caracteristicas pero falta una version full full
no me he comprado el mini ipad porque no tiene tarjeta sd y pantalla retina.
si no sacan modelos con todas las caracteristicas porque comprar menos completo que ipad
ustedes no tener respaldo
donde encontrar repuestos de sus tablet
convencer de lo contrario
Onda Tablet:
Thank you for your mail.
We will release Onda V812 Leather case and screen protector on our website in 1 or 2 business days.

From NIKOLAOS at

12/29/12 6:41 AM

From alex at

12/29/12 1:26 AM

Onda V812 Quad Core Weight: 469g

Onda V812 White Tablet Weight: 550g

How it's real weight?
Have you a case for v812?
Do you gift hdmi cable with v812?
Onda Tablet:
Thank you for your mail.
Onda V812 Quad Core weight is 478g,we will send HDMI cable as a gift for Onda V812 pre-orders.

From Joe at

12/28/12 6:22 AM

From Tim at

12/27/12 8:01 AM

From Mauro at

12/26/12 2:05 AM

From Johnny at

12/24/12 8:34 AM

From jere at

12/24/12 10:19 PM

From jere at

12/24/12 10:09 PM

From Richard OR at

12/24/12 7:22 PM

From IVÁN ILITCH VILLAFAÑA at

12/24/12 6:59 PM

okay okay, I want to see a wave 812 quad core, its holster and cable otg, as I pay in full, and my question is if you come by DHL parcel, you manage the import duties? or should I do to reach my home in Zacatecas, Mexico?
Onda Tablet:
Thank you for your mail.
We support shipping to Mexico by Express,we will print your package value under 50USD,but we are not sure about your local customs.

From Daehee at

12/24/12 5:36 PM

Do you have in stock V812 now(24th Dec)
And how much will it cost to send South Korea?
Onda Tablet:
Thank you for your mail.
Now Onda V812 Quad Core is pre-order and all pre-existing orders be shipped with priority and will send a HDMI cable as a gift.The shipping cost to South Korea is 19.8USD.

From Razor at

12/23/12 11:43 AM

From Suji at

12/23/12 11:10 AM

From klaus seemann at

12/23/12 2:26 AM

From wawan at

12/21/12 6:28 PM

From ivan at

12/20/12 5:59 AM

From jose at

12/20/12 1:12 AM

From molle at

12/19/12 2:27 PM

From Denis at

12/19/12 6:49 PM

Hi,
Tell me please When will you have it in stock? How long will be shipping to Russia? When do I need to pay my order? What will package include? Are You having adapter for Europe?
Onda Tablet:
Thank you for your mail.
Onda V812 now support pre-order,we will send your package in 7-10 days around.
The pacakge contain USB Cable and charger.
We will send the right adapter according your shipping address.

From IVAN ILITCH VILLAFAÑA ENRÍQUEZ at

12/18/12 3:19 PM

good afternoon: I wonder if you can buy and receive: the CP. 98,060 state of Zacatecas, Mexico, the tablet: Onda V812 Quad Core Android Tablet PC Allwinner A31 2160P HD WIFI 16GB Dual Camera, my question is whether I can buy from you and get here, and what would be the total cost of the purchase, pay with paypal or bank deposit thanks.
Onda Tablet:
Thank you for your mail.
We support shipping to Mexico and the shipping cost is 19.8USD.
We support Paypal and West Union.

From YARIV at

12/18/12 2:15 AM

From Dehghan at

12/17/12 5:29 AM

From CHEW at

12/17/12 8:46 PM

From yariv at

12/16/12 12:51 PM

From raul at

12/16/12 11:07 AM

From RAUL at

12/16/12 11:05 AM

In Onda V812 BLACK you wrote:
Camera Daul Camera,Back 5.0M Camera with Autofos,Front 2.0M

In Onda V812 WHITE you wrote:
Camera Daul Camera,Back 5.0M Camera with Autofos,Front 0.3M

HOW REALLY IS THE FRONT CAMARA?

THANKS!

Onda Tablet:
Thank you for your mail.
Onda V812 Black Version Front camera is 0.3M.

From yariv at

12/16/12 9:39 AM

From Hanks at

12/16/12 3:47 AM

From Filloy at

12/14/12 2:58 AM

What is the shell made?
aluminium or plastic?
external 3g supported?
Will you update it to Android 4.2?
Can i order more than one tablet for the same shipping tax?
thank you.

Onda Tablet:
Thank you for your mail.
Onda V812 Quad Core made of Metal shell Aluminium,support external 3G USB Dongle,support update to Android 4.2.
The shipping cost depend on the shipping address.

From ZZZ at

12/13/12 7:36 AM

From denis at

12/13/12 4:41 AM

Can you tell me how much do I have to pay for shipment to Greece? Moreover how about the warranty? Is there a support for external 3g dongle, hdmi out, bluetooth and usb otg support? Thanks in advance.
Onda Tablet:
Thank you for your mail.
The shipping cost to Greece is 19.8USD,Onda V812 support external 3G USB Dongle,HDMI output and OTG Function.
We will have fully test before we send,all our Onda Tablet come with 12 months warranty.

From yigit at

12/12/12 5:56 AM

From yariv at

12/10/12 8:28 AM

From Storm at

12/9/12 1:09 AM

how can we be notified exactly when the product becomes available so that we can get it before it goes out of stock?

how long will it take to be delivered to new jersey, usa once it is available?


Onda Tablet:
Thank you for your mail.
Onda V812 Quad Core will be in stock the next Week.

From Pavel at

12/9/12 7:59 PM

From Dave at

12/9/12 7:40 PM

From Vel at

12/8/12 2:30 PM

From dondon at

12/8/12 1:28 AM

From lenard at

12/8/12 8:42 PM
Ask Your Own Question
Customer Reviews
price Review by

sangaster

i like the price i think its is fair (Posted on 1/12/13)

iPad Mini Killer Review by

John

It's my great first Tab.I found this Tab reliable easy to use and still able to get every APP on it I wanted without much trouble.I am delighted with it, worth the price. (Posted on 1/7/13)

Very Nice Review by

Scott

Fast Tablet,Worth the price. (Posted on 1/3/13)